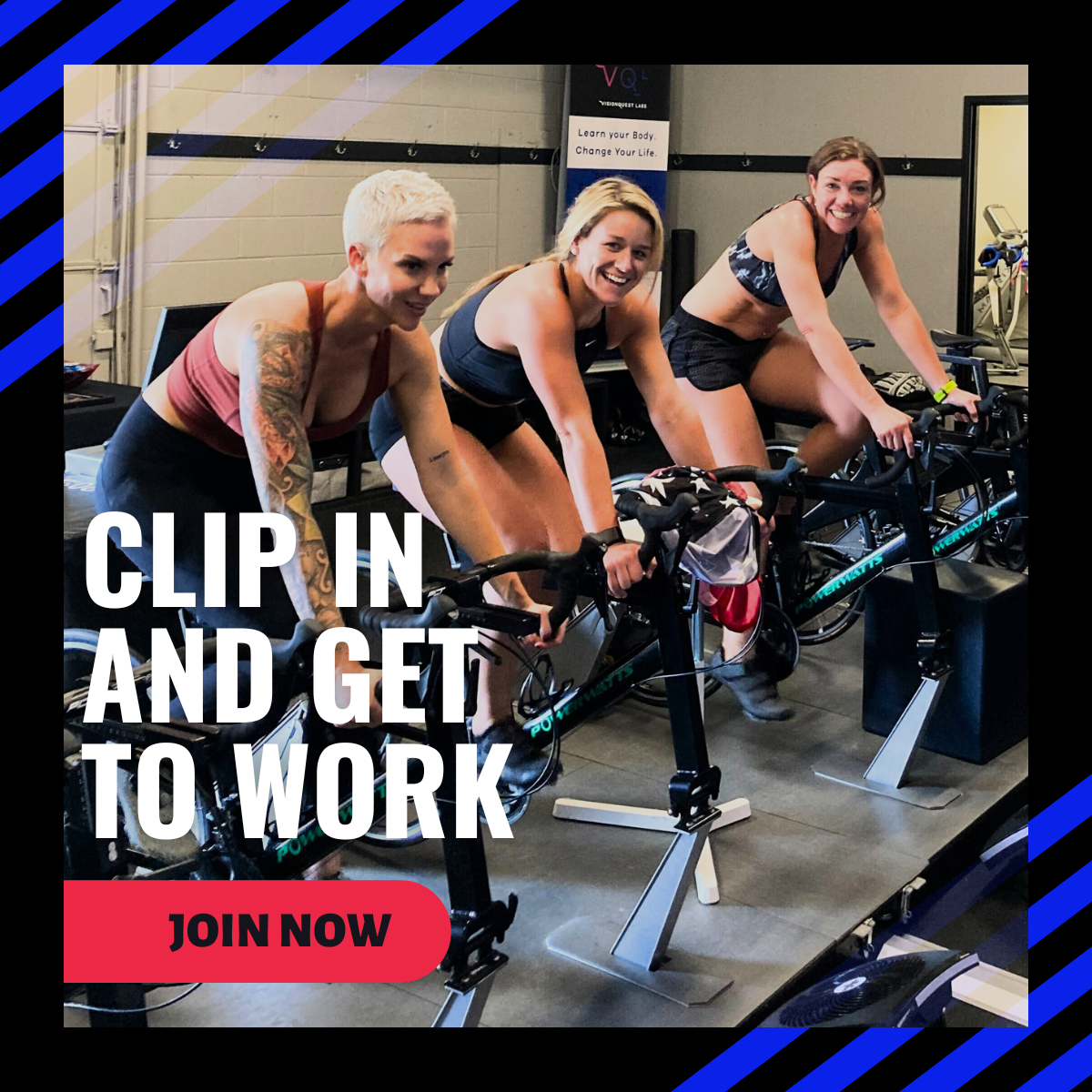 PowerWatts indoor cycling is the most advanced, engaging and effective system bar none. Not only will you get an incredible workout, you'll learn about the science behind the different energy systems used and how they apply to your training and fitness. It's also the only software platform that teaches you cycling skill development and reinforces real world cycling skills.
Whether you're a cyclist or triathlete, VisionQuest Labs' indoor cycling experience will develop rider's abilities, fitness and drive them to reach breakthrough performances.
Why is PowerWatts indoor cycling the most advanced, effective and engaging system?
The system combines performance cycling drills with highly effective training methodologies and wraps it in fun, competitive gamification. It is a highly efficient system that maximizes results in short 60 minute workouts. Classes are limited to 10 riders and are intimately coached by an instructor who's engaged with them throughout the class. Rider's performance is displayed on screens so the instructor can aid in rider's development in real time.
Fully Customized Ride Experience
The riding platform is made up of fully custom made, multi-adjustable road bikes on a suspension system. Riders will dial in their fit and prepare to hammer away!
Highly Effective and Efficient Training
This is the most advanced software for effectively targeting specific energy systems and developing them. Workouts are designed to stress and stimulate your aerobic and anaerobic systems to drive growth and ability.
Fun and Competitive Gamification
Individual segments in workouts are built to foster healthy competition that hones in skills and pushes riders to new breakthroughs. Riders also compete in quarterly stage races to test their growth and development.
Real World Skill Development with Custom Coaching
No other indoor cycling software has the ability to let you practice and improve cycling skill development that translates to real world road cycling. Power and cadence drills teach riders to fine tune their ability to ride better on the road.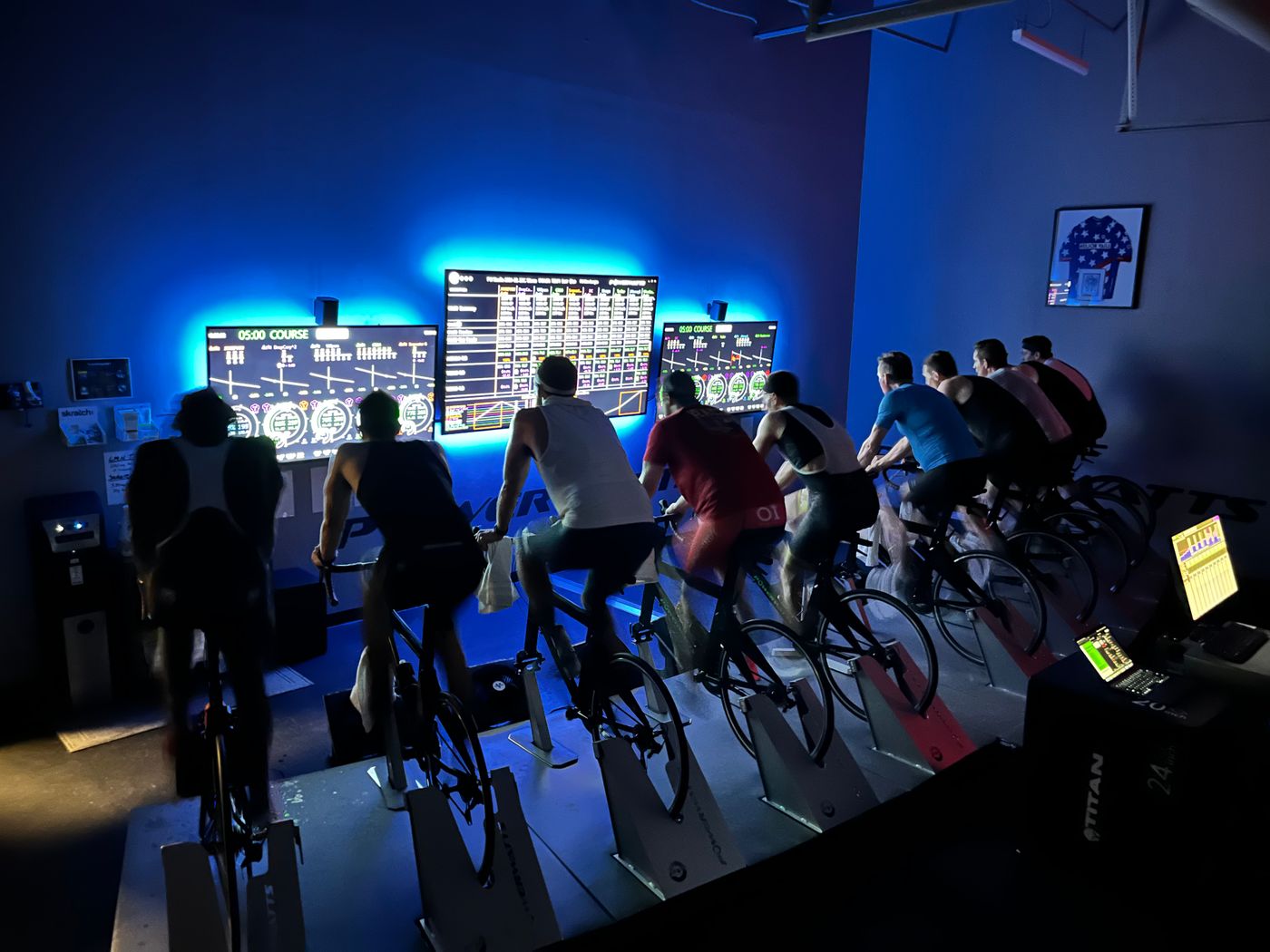 The Results
Rider's will have their data on-screen throughout the class and can monitor their in-class performance report. Rider's receive ribbons, medals and trophies when they have breakthrough efforts and their profile is updated. After a workout, riders can review their performance in the digital locker room as well as sync their workouts to TrainingPeaks, Strava or a number of third party fitness trackers.

How a class will go:
- You'll need to sign-up for a class online and reserve a spot
- Towels will be available, but riders are encouraged to bring their own during COVID restrictions as well as you should remember your water bottle if you want one during the workout
- Classes will last 60 minutes and an instructor will coach you through the workout
- A workout file is automatically uploaded to your locker room and your profile will by updated in the computer

What you'll need to know
Riders of all abilities are welcome in any class. Classes will be based off of a rider's CP/FTP, so it's helpful if a rider knows theirs, but not necessary at all as we can get anyone started with a good placeholder.
Our bikes have Speedplay pedals, so it will be a seamless transition for riders who are already using Speedplays. The facility will have a limited number of trial shoes available for riders to test the system. Many riders have "indoor" shoes with Speedplay cleats for training and/or switch over their outdoor shoes and bikes to a Speedplay system.